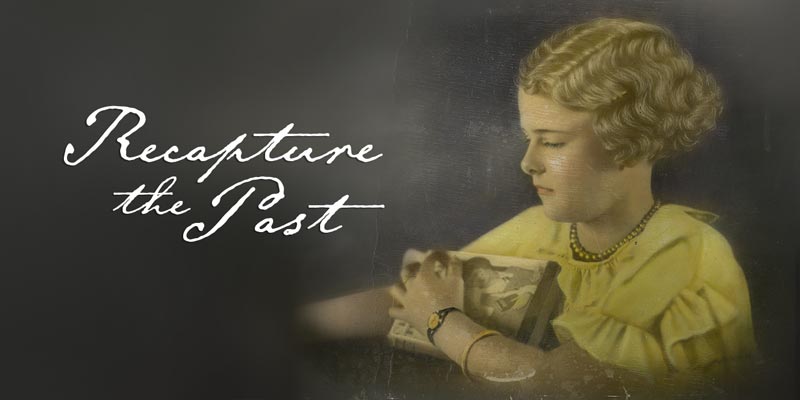 Photo Restoration Specialists
Flashback Photo Co specialises in digital photo restoration, retouching and photo editing, document restoration, and archival printing. We bring to every project a mix of technical know-how and artistry, achieving excellent results with all kinds of degraded images.
Get a Quote
For a quick response quote, use your phone to take a snapshot of your photo and send by SMS to 0418 896 932.
To discuss your project, call us during business hours (Sydney time) on 1800 840 406.
Photo Restoration
Recovery of faded, stained, scratched, torn and insect damaged photos. If the faces are recognisable, we can fix it.
See more.
Image Upscaling
Enlargement and adding detail to blurry and pixellated photos. We can also make big improvements to out of focus snapshots taken with mobile phones.
See more.
Black and White Photo Colourisation
Amazingly true-to-life renditions of black and white images. See more.
Document Restoration
Digital restoration of old maps, plans, certificates, posters and artwork on paper. See more.
Archival Printing
We make beautiful prints using the best acid-free papers and fade-proof inks. Learn more.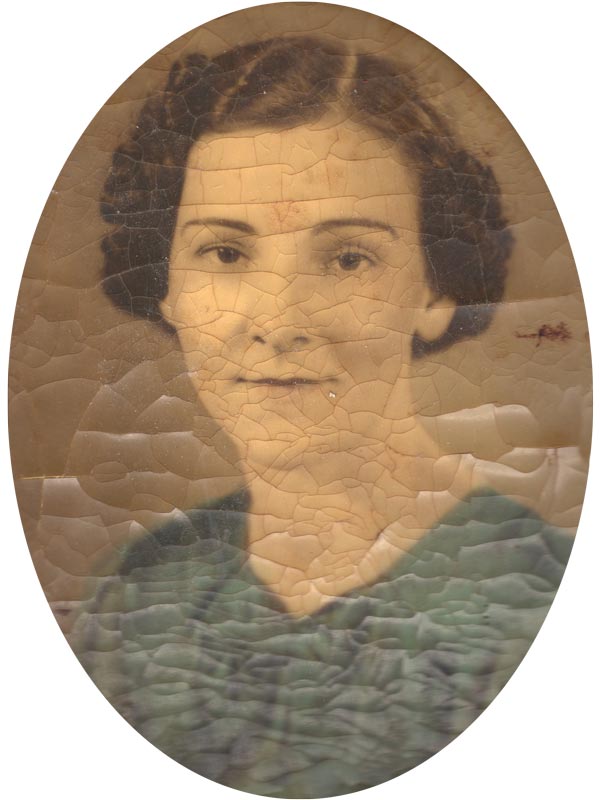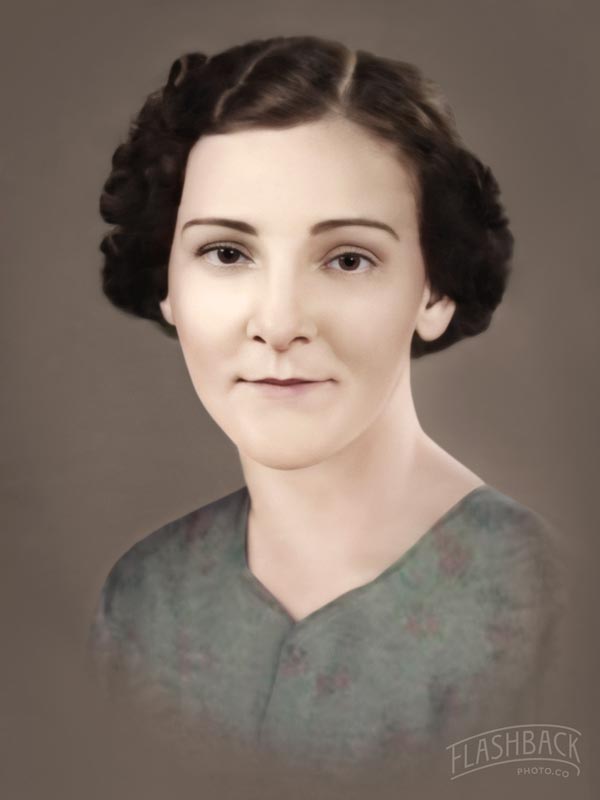 This antique photo was a severe case of the type of cracking common with convex-mounted photographs from around the 1920s through to the 1940s. We completely repainted the image, and were able to retain an authentic hand-coloured feel.
Scan at Officeworks
Go to the print desk at Officeworks and ask for a scan at the highest quality setting in full colour (even for black and white images), at 600dpi. Then email the file to [email protected].
Or use your home scanner
Scan at 600dpi using the highest quality settings and send us the file by email or through our contact form.
Or post your photo to us
If you'd like us to do the scan, send your photo by post to
Flashback Photo Co
PO Box 7365
Leura NSW 2780
Restoration
We get to work on your photo. The process usually takes 5-7 days, but we can rush through urgent jobs in 24 hours if needed.
Proofing
We send you a preview by email and make any changes requested, to get it just right.
Payment
On approval we'll send the invoice, payable by bank deposit or secure online credit card payment.
Digital file / prints
We send the high resolution digital file on payment, and dispatch prints within seven business days, if ordered.
Pricing Guide
The price includes the restoration and high resolution digital file for printing and sharing.
For an additional fee we can post prints of the finished image.
As a small team with a focus on quality, we prefer to work with a maximum of four images per order.
For detailed pricing info and examples click here.
Basic Restoration
Recovery of lightly creased, scratched, faded, stained photos. Ask us about discounts for multiple basic restorations.
Standard Restoration
Recovery of creased, scratched, faded, stained photos. Colour restoration of faded images. Colourisation of black and white portraits.
Advanced Restoration
For very degraded images: heavily creased, scratched and stained photos. Or two Standard tasks such as restoration and colourisation.
Extreme Restoration
For extremely degraded images needing hours and hours of careful editing and photo-realistic painting to recover lost detail and colour.
Guaranteed Results
We don't send the invoice if you're not happy with the results.
"This work is extraordinary! Especially the Scottish girl – our grandmother! I didn't think she would be able to be revived. Thank you so much James – you've enabled our ancestors to emerge from the mists of time!"
Sue J, Cootamundra, NSW
"Thank you, you've brought tears to my eyes, so many happy precious memories I can share with the rest of the family. I received the hard copy prints yesterday. Just perfect, thank you so much."
Andrea, Sydney NSW

"James is extremely talented, meticulous and pleasant to work with. He will go the extra mile to get the colours and detail of his work just right – until it's perfect. He has restored and colourised three damaged old black and white photos of my mother at various stages of her youth for me. My Mum says she cannot take her eyes off them and the photos make her feel young again. These magnificent photos will be handed down through future generations. Thank you so much for bringing these photos to life. Your work is stunning."
Anne T, Brisbane QLD

"Absolutely a quality service with an incredible job completed restoring a very old and damaged photograph. I cannot recommend James and Flashback enough. If you have a distorted or old and damaged photo to be repaired Flashback Photo is your go to for customer service and quality, which is second to none. No matter where you are in Australia, do not look anywhere else."
Leanne M, Adelaide, SA