Specialist Photo Restoration Service
Get a Quote
For a quick response quote, use your phone to take a snapshot of your photo and send by MMS to 0418 896 932.
To discuss your project, call us during business hours (AEST) on 1800 84 04 06.
Covid-19 update
We're taking orders online as usual. Please phone ahead if you plan on visiting our Leura studio for contact-free delivery and pick up options.
We're busier than usual and as a team of two we'd prefer to limit the number of images to four per job. Turnaround times are also a bit longer now – allow for a week for restorations and a week to 10 days for prints.
Recovery of faded, stained, scratched, torn and insect damaged photos. If the faces are recognisable, we can fix it.
Enlargement and adding detail to blurry and pixellated photos. We can also make big improvements to out of focus snapshots taken with mobile phones.
Digital restoration of old maps, plans, certificates, posters and artwork on paper.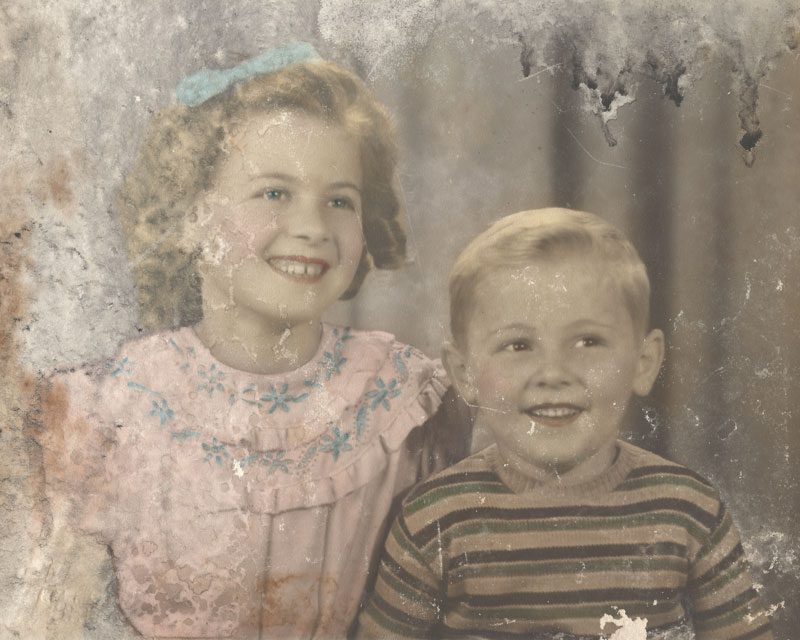 This delightful hand-coloured photo from 1947 came to us in a very poor state – water had washed out the left side and top of the image, and it was otherwise faded and scratched up. We completely repainted the image, and grafted in the curls of a young girl who was very famous around that time.
How it Works
To work with us, all we need is a scan of your photo.
Here's how to get started:
Scan at Officeworks
Go to the print desk at Officeworks and ask for a scan at the highest quality settings in full colour (even for black and white images), at 600dpi. Ask them to email the file to [email protected].
Or use your home scanner
Scan at 600dpi using the highest quality settings and send us the file by email or through our contact form.
Or post your photo to us
If you'd like us to do the scan, send your photo by post to
Flashback Photo Co
PO Box 7365
Leura NSW 2780
Restoration
We get to work on your photo.
The process takes 5-7 days.
Proofing
We send you a preview by email and make any changes requested, to get it just right.
Payment
On approval we'll send the invoice, payable by bank deposit or secure online credit card payment.
Digital file / prints
We send the high resolution digital file on payment, and dispatch prints within seven business days, if ordered.
Pricing Guide
The price includes the restoration and high resolution digital file for printing and sharing.
For an additional fee we can post prints of the finished image.
As a small team with a focus on quality, we prefer to work with a maximum of four images per order.
Detailed pricing info and examples click here.
Basic Restoration
Recovery of lightly creased, scratched, faded, stained photos. Ask us about discounts for multiple basic restorations.
Standard Restoration
Recovery of creased, scratched, faded, stained photos. Colour restoration of faded images. Colourisation of black and white portraits.
Advanced Restoration
For very degraded images: heavily creased, scratched and stained photos. Or two Standard tasks such as restoration and colourisation.
Extreme Restoration
For extremely degraded images needing hours and hours of careful editing and photo-realistic painting to recover lost detail and colour.
Guaranteed Results
We don't send the invoice if you're not happy with the results.
Rembrandt Harmensz van Rijn,
Self portrait in a Velvet Cap with Plume, c. 1638.
Archival Printing
Pigment ink on cotton-fibre paper: a timeless combination
We may be using advanced technology to make our prints, but the same basic materials were used by the old master printmakers centuries ago. And just as their artistic legacy survives to this day, the prints we make will be with us hundreds of years into the future.
We stock a select range of fine art and photographic papers to perfectly match the look and feel of the original image.
Epson Ultrachrome HD pigment ink print on Hahnemühle Photo Rag paper, 2020.
"James is extremely talented, meticulous and very easy, patient and pleasant to work with. He will go the extra mile to get the colours and detail of his work just right – until it's perfect. He has restored and colourised three damaged old black and white photos of my mother at various stages of her youth for me. My Mum says she cannot take her eyes off them and the photos make her feel young again. These magnificent photos will be handed down through future generations. Thank you so much James for bringing these photos to life. Your work is stunning."
Anne T, Brisbane QLD
"You did a beautiful job. It generated a lot of conversation between me and my sister. Her recollection of the photo was sharper than mine because she was the older, more composed goody-two-shoes on the left and I was the younger tear-away with her skirt turned up on the right. Apparently I gave the photographer a real challenge."
Denise S, Sydney NSW
"Grandad passed nearly 30 years ago and all we've had is a damaged black and white photo. We now have a colourised, perfectly restored image of him in our home. Incredible work. We are very happy customers indeed!"
Paul G, Canberra ACT