Professional Photo Restoration
We bring to every photo restoration project a mix of technical know-how and artistry to achieve excellent results, with all kinds of degraded images.
Our approach is to return images to their undamaged state, aiming for authentic-looking results, rather than an overly airbrushed look. When finished, we print the image on a type of paper that well suits its era.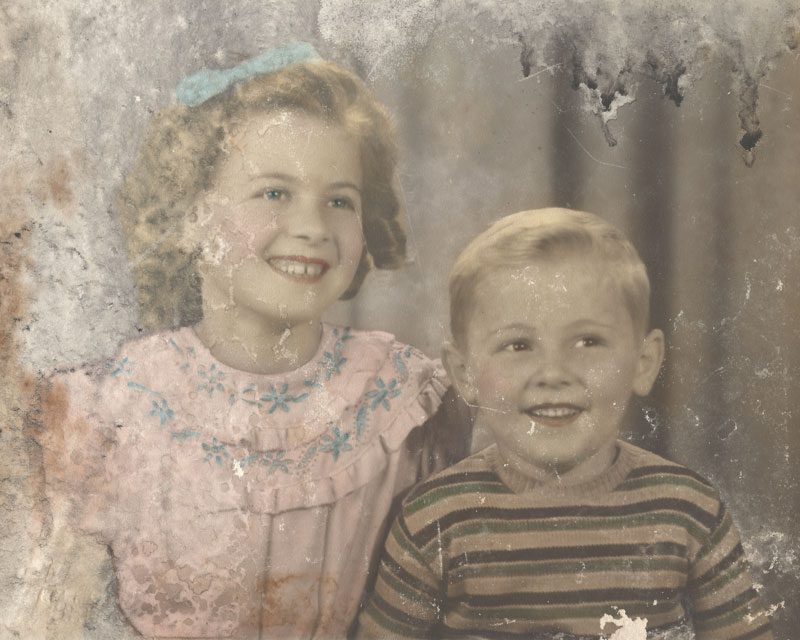 Examples of our work
Hover your mouse or swipe over the image to compare before and after.
Silver mirroring photo restoration
Pricing Guide
The price includes the restoration and high resolution digital file for printing and sharing.
For an additional fee we can post prints of the finished image.
As a small team with a focus on quality, we prefer to work with a maximum of four images per order.
For detailed pricing info and examples click here.
Basic Restoration
Recovery of lightly creased, scratched, faded, stained photos. Ask us about discounts for multiple basic restorations.
Standard Restoration
Recovery of creased, scratched, faded, stained photos. Colour restoration of faded images. Colourisation of black and white portraits.
Advanced Restoration
For very degraded images: heavily creased, scratched and stained photos. Or two Standard tasks such as restoration and colourisation.
Extreme Restoration
For extremely degraded images needing hours and hours of careful editing and photo-realistic painting to recover lost detail and colour.
Guaranteed Results
We don't send the invoice if you're not happy with the results.
Scan at Officeworks
Go to the print desk at Officeworks and ask for a scan at the highest quality setting in full colour (even for black and white images), at 600dpi. Then email the file to [email protected].
Or use your home scanner
Scan at 600dpi using the highest quality settings and send us the file by email or through our contact form.
Or post your photo to us
If you'd like us to do the scan, send your photo by post to
Flashback Photo Co
PO Box 7365
Leura NSW 2780
Restoration
We get to work on your photo. The process usually takes 5-7 days, but we can rush through urgent jobs in 24 hours if needed.
Proofing
We send you a preview by email and make any changes requested, to get it just right.
Payment
On approval we'll send the invoice, payable by bank deposit or secure online credit card payment.
Digital file / prints
We send the high resolution digital file on payment, and dispatch prints within seven business days, if ordered.